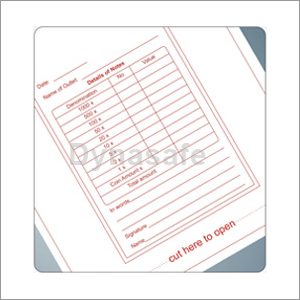 Product Description
We are recognized as one of the eminent manufacturers, suppliers and exporters of light weight Cash Deposit Bags. Under the supervision of our skilled manpower, these bags are made using supreme quality of base materials. Our offered cash bags are known for their high tear strength, perfect weaving and easy to carry features. Light weight Cash Deposit Bags are used in places like retail stores, ticket counters, restaurants, toll booths and hotels for keeping cash in a safe manner.
Our company wants to guarantee that all of your cash handling practices are safe. Made from tiptop and strong LDPE with seal adhesive closure system, our Cash Deposit Bags are highly durable. Once closed these cant be affected by any unauthorized attempt that intends to break the seal. These products are neatly finished, crack resistant, spacious, well-segregated, and are extremely easy to carry. Cash Deposit Bags we offer come with umpteen benefits like counterfeit detection, tamper-resistant materials, which make you money safe.
These can be used for cash collection in following places :-


Retail Stores
Hotels
Restaurants
Toll Booths
Ticket Counters

These bags come with void closure and can be utilized for keeping cash collected. Acting as a more secured mode for cash in transit. Once sealed in this enduring closure bag & subscribed by the shift in charge, these deflect dispute about their content when opened in the front of the pertinent authority without the fear of any fraud that is caught right away.

Attributes :-

Tear off receipt, serial number for record keeping and tracking, accessible in ready stock in 1000 pieces packs.
Moisture-proof, easy to write with ball point pen and permanent marker, company logo as well as address can be screen printed at a minimal cost.
Tear, burst, and puncture resistant, opaque enough to maintain the secrecy of documents inside.
Environment friendly as 100% recyclable, can be customized for quantities above 10,000 pieces.
Features of Cash Deposit Bags :-

Available for 1000 packs
Company logo & address can be screen printed
Permanent closable bag
Can be used at retail stores, restaurants, hotels, toll booths, ticket counters
Tear Off Receipt
Serial numbered for record tracking
Moisture resistant
Easy to write with ball point pen or permanent marker

Standard Sizes of Bank Deposit Bags :-
| | | | |
| --- | --- | --- | --- |
| Size | Width (inch) | Height (inch) | Micron |
| Small | 7 | 9 | 60 |
| Medium | 10 | 12 | 60 |
We also take orders on customized requests.