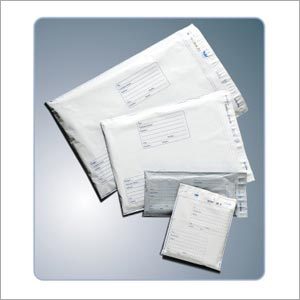 Product Description
Owing to our wide experience in this domain, our company is counted among the foremost manufacturers, suppliers and exporters of water resistant
Security Envelopes,
security business envelopes, Security Envelopes with Window. These envelopes are broadly used to mail important papers, cheque, invoices, excise documents, brochures and DVDs. Acknowledged for their fine finish, high tear strength and water resistance features, these envelopes are highly demanded among our clients. Apart from this, clients can avail these water proof
Security Envelopes
, security business envelopes, Security Envelopes with Window from us in different sizes, shapes and designs.
Our offered water resistant Security Envelopes will assuredly be that security coverings you've been looking for. All of that perturbation of trying to keep the private content inside will be reduced after you acquire a hold of these envelopes. These are fixed with the patterned and colored interior coating so that recipients and receivers can't view through to the inside. Be you have a casual letter, personal love letter or a confidential work document these envelopes will definitely make every content safe and sound. If you're concerned about the security, privacy and secrecy of your content, then these artifacts are the perfect picks. Our Security Envelopes come in standardized business sizes, so these are outstanding for any type of document you set inside. Accoutered with quality paper and simplicity in usage, these envelopes will make your business look much more professional.

Water proof Security Envelopes offered are accessible in quality structure finish and safe tamper apparent security envelope utilization. Perfect for all business, personal and professional agreement, these keep those prying eyes off from your important documents you don't want to share with. The products come with the security tinctures and the printed lining for secrecy that are perfect for sending private and confidential mails.


Qualities of Security Envelopes :-
Available in material choices of PE, PO, greatly seal-able, advanced strength and the non slide surfaces for effortless shipping.
Accessible with standard and customized sizes, multi-layer extrusion capacities.
Tamper evident closure instrumentality and self-sealing abiding adhesives to ensure the privacy factor.
Can be used by armored carriers, retailers for night deposits, financial institutions, payroll, checks, cash transfers, police evidence rooms and for keeping patient valuables.

Attributes :-


Available in thickness range; 40 to 110 micron.
Available in various finish shapes.
Available with custom-made shapes and designs.
Alternatives of various colors.
Options available for several printing artwork design.
Printing area choice in accordance with clients' requirements.
Moisture-proof and waterproof usage.
Free sample distribution is available from the stock.
Types of Security Envelopes

Plastic Security Envelopes

Messenger Security Envelopes
Key Features of security business envelopes :-
Used to mail important papers, excise documents, leaflets, samples, invoices, cheque, invoices, brochures and DVDs
Generally used for enclosing & sending mail by a prepaid-postage postal system
Ideal for all general mailings and Impeccable finish with durable print
Microprints on the sides of the envelope With Custom printing
Good impact strength and also Accepts stamps with labels
Excellent level of safety for deliveries and deposits
During for deliveries having Highest level of security and deposits
Excellent confidentiality and privacy for inside
Excellent impact strength and tear resistance
Thickness of film used is from 45 to 120µm
Availability in numerous sizes and Good look designs
Specifications of Security Envelopes :-
| | | |
| --- | --- | --- |
| SIZE | FLAP | GAUGE |
| 4" X 7" | 1 | 240 |
| 4.5" X 9" | 1.5 | 240 |
| 5" X 11" | 1.5 | 240 |
| 6" X 6" | 1.5 | 240 |
| 10" X 12" | 2 | 240 |
| 10" X 14" | 2 | 240 |
| 12" X 16" | 2 | 240 |
| 12" X 16" | 2 | 240 |
| 15" X 19" | 2 | 240 |
| 19" X 24" | 2 | 240 |
| 24" X 24" | 2 | 240 |
Area for Security Envelopes