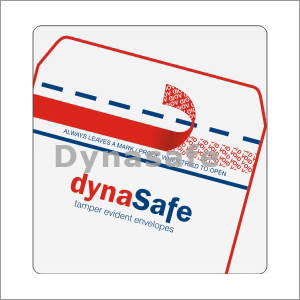 Product Description
With the help of our manufacturing unit and experienced personnel, our company brings forth an exclusive range of Tamper Evident Security Envelopes. Made as per international quality standards and norms, these envelopes are light in weight, durable and water proof in nature. Our offered Tamper Evident Security Envelopes are widely used for the safe packaging of examination papers, confidential documents, election papers, passports and precious metals. Moreover, we are offering these security envelopes to our clients within committed time period.

Tamper Evident Security Envelopes provides a high level of security for your business document. Once closed any unauthorized attempts to break the seal will cause the VOID message to appear. This ensures that there is absolutely no possibility of lossing Tamper of Exam Papers/ Material/ Documents/ Coupons in transit.
Attributes of Security Envelopes :-
SKU
Size (W x H) Inches
Micron
POD Jacket
DC-TPSE-S11-NA
10 x 12
75
No
DC-TPSE-S16-NA
12 x 16
75
No
Key Features of Tamper Evident Security Envelopes :-
Made of co-extruded LDPE films from 75 micron
Unique bar coding for easy storage
Double sealing to ensure that no tampering takes places
Tear Resistant
100% recyclable
Waterproof in nature
Applications of Tamper Evident Envelopes :-
Forensic Evidence
Batch Samples
Best alternative for transferring money & legal evidences etc..
Available in the following standard sizes:
Code
Dimensions
A
10"x 18"
B
18"x 22"
C
22"x 22"
We also take orders on customized requests.